"Clean code1 always looks like it was written by someone who cares." – Michael Feathers, author of Working Effectively with Legacy Code. Gartner has estimated Global 'IT Debt' to grow by $1 trillion in 2015.
Introduction 
Ward Cunningham, inventor of Wiki and pioneer in extreme programming and design patterns, introduced a very well known metaphor – Technical Debt3 which refers to the consequences of poor software design, architecture or development. The pace with which IT Industry has boomed in the last 15 years has resulted in creating technical debt worth millions of dollars.
The lack of standard practices, design patterns and mature processes could have created it during the initial years but the race to deliver software applications in a quick and dirty way without keeping a perspective on their scalability and maintainability, is a major contributor to accumulation of so much technical debt. Like financial debt, technical debt incurs cost due to extra effort needed to maintain bad code4 and with time this debt goes on rising exponentially. Technical debt has two impacts – it increases costs of maintenance projects and can also cause bad reputation and loss of business.
If an important client asks you to deliver a customized feature in your software product so that he could gain a competitive advantage and you discover that it could not be delivered within the specified time frame due to technical debt in your product, you run the risk of losing a client. It is said that losing one client leads to losing five clients. It takes years to create a good reputation and consciously build a brand image for any organization. You would certainly not like to risk it due to your technical debt.
Technical debt can be categorized into code debt, design debt, technology debt5 and IT infrastructure debt. This paper focuses on code and design debt. It describes how technical debt increases project costs. It describes the causes of technical debt and suggests actions that should be taken by various project stakeholders to minimize technical debt.
How Technical Debt increases project costs?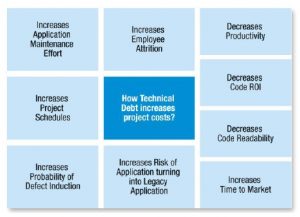 1. Decreases code readability It is difficult to read code with anemic domain models6,absence of code modularization and meaningful names for classes, methods or variables. At times, the code is implemented in Object Oriented Programming (OOPs) technologies but written with procedural style of programming.
2. Increases application maintenance effort Code readability impacts its maintenance directly. It takes longer to modify code that is difficult to read. Increase in maintenance effort increases project costs.
3. Increases project schedules
Increased application maintenance effort may require additional developers or increase in project schedules.
4. Increases time to market
Increased project schedules increases time to market of a product. This could be a risk in gaining competitive advantage.
5. Decreases productivity Productivity of developers working on code that is difficult to read diminishes as the project scope grows over a period of time (Figure 1)1.