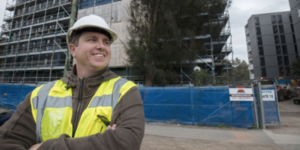 Adam Poole, Founder and CEO of The Safety Compass
Image courtesy: https://www.uow.edu.au/alumni/outlook/UOW239329.html
Adam Poole, the Founder and CEO of The Safety Compass, himself sustained a significant injury when he was working as a motor mechanic. He knows firsthand the toll a workplace hazard takes on an individual and the family.
The passion and energy Adam and the team at Safety Compass have toward workplace safety is palpable. Intellect SEEC partnered with The Safety Compass in 2017 to provide access to workplace safety data for our clients. We believe that as workplace safety becomes increasingly preventative, workers' compensation insurance too will change dramatically. By rewarding safety data with lower premium prices, insurers have an opportunity to prevent workplace accidents and save increasing number of lives.
Adam shares his vision with us to create a world where everyone comes home from work. In our discussion with Adam, we dive in to understand how technologies as novel as augmented reality (AR) and as familiar as the smartphone are making workplaces safer.
Xchange: Tell us about the inspiration for The Safety Compass
Adam: Despite complex health and safety management systems, audits, inspections, training, inductions, safe operating procedures and many other forms of information people still go to work and sustain injuries. And workplace injuries are traumatic by nature—lacerations, crush injuries and being hit by moving objects are common. In the U.S., no less, private industry particularly, nonfatal occupational injury and illness incidence rate is 2.9 cases per 100 full-time workers! [2] And the United Nations states that a safe place to work is a fundamental human right, so what are we doing to help in this space?
The Safety Compass is designed and built for people at the frontline—people operating chemical plants, people working on railroads, people providing power to cities and neighborhoods, people everywhere! It provides the link between the complex systems used to manage risk at the conceptual level and the people who are actually at risk. It gives context to the information by breaking it into bite-sized pieces and giving it to people when and where they need it the most.
Image courtesy: http://stand.uow.edu.au/the-way-to-a-safer-day-in-the-workplace/
Safety Compass was one of the first products to use augmented reality to keep people safe. We custom built an AR platform and tested it on oil fields in southern Iraq, wind farms off the coast of Denmark, and manufacturing sites all over North America. Using existing hardware – our smartphones – we launched a product that's as easy to use as holding your phone up to a work area.
Xchange: What are the opportunities to collect different types of hazard information in a manufacturing company?
Adam: Hazard identification and management already occurs in many manufacturing environments, we're making the access to that detailed information much more accessible for those people at risk – frontline workers – and allowing hazard information to be almost crowdsourced using smartphones.
Hazard information can include specific machinery information via our beacon integration, energy sources and their operation or site wide risks such as chemical storage areas or areas with noise restrictions. The Safety Compass app is customizable to an individual site, so the amount of data you can engage with is huge.
Xchange: What kind of results have you seen with The Safety Compass app?
Adam: We've seen that The Safety Compass can be deployed almost anywhere, from wind farms in the North Sea to restaurants in New York.
We're looking at how people engage with safety information via our analytics engine, and we can see that people are logging into Safety Compass, adding hazards, viewing hazard detail and acknowledging the information presented most of the time.
We have seen some gaps between the number of hazards viewed and the number of hazards acknowledged so it's very easy to set a baseline for improvement in these situations. We are working toward improving workers' engagement with hazard information, which consequently reduces the number of workplace injuries.
Xchange: AR is currently a novelty. How can you put this technology in the hands of real workers and make them safe?
Adam: We have always had the people working on the frontline in mind, so a lot of research and experimentation goes into the design and functionality of Safety Compass' features to ensure they have suitable use in the field.
Part of our research has been the identification of additional features our audience would like to see, so research and development is an ongoing practice. We've already made enhancements to Safety Compass based on direct input from frontline workers.
By using smartphone hardware, we can also deploy at scale anywhere in the world to reduce the barriers of hardware accessibility and cost.
Xchange: How are new AR technologies/SDK making the user experience better?
Adam: We built Safety Compass from scratch, and there have been restrictions in the types of devices you could use as additional sensors were needed in the hardware itself. Accuracy of GPS information has also been an issue on a case by case basis – we use assisted GPS and have recently integrated beacon hardware to alleviate this but it took a lot of work!
Source: GIPHY
One of the best things to happen for smartphone based AR has been the launch of Pokémon Go! This really gave the global audience a taste of what their phones are capable of doing with an AR product. Prior to this, AR needed a more complex explanation and demo to get the message across.
From a development perspective, we're seeing great things happen in AR SDKs and are much more accessible. The hardware is up to the task, it's now about building the software to suit.
Xchange: Which will make further headway – ARKit or Google Tango?
Adam: ARKit is the more accessible option as it uses Apple hardware that is already prolific. Google Tango is a great option. We've had a Tango tablet for around 18 months, but Apple has the hardware advantage at the moment.
Xchange: Is hardware an impediment to using AR more freely in a factory environment?
Adam: It can be. Smartphones, particularly for these frontline workers, are becoming a 'tool of trade' more and more, so Safety Compass has been designed and built for this existing hardware and these existing environments.
Wearable tech for AR use is still expensive and this will be a barrier to implementation for many companies, particularly those with hundreds, if not thousands, of people working.
That's not to say we haven't tried wearables, they're on our longer term roadmap!
At the moment if you do a simple cost comparison you could buy one HoloLens device for the same price as giving 40 people Safety Compass for 12 months.
HoloLens, Google Glass and Oculus would also need to be certified to the safety standards required by eye protection (safety glasses/goggles) for use in the workplace. OSHA has a specific standard for this, as does Australia and the UK for example. This in itself is a significant barrier to implementation in an industrial setting.
Xchange: Why should insurers care about this development in workplace safety?
Adam: There are huge benefits for insurers. Imagine being able to connect with the people covered by your insurance policies through tools designed to help keep them safe.
Also read: Why the Real Unicorn of InsurTech Will Emerge from Commercial, Not Personal
That's not to mention the obvious. Employers who adopt a proactive method of risk management, generate huge ranges of information about their work sites in minute detail. An insurance carrier can access this data in exchange for a premium discount. And you can keep learning about the policyholders throughout the course of their journey with the insurer.
If you look at it from just a high-level value proposition: reduced incidents equals reduced claims costs.
Xchange: What's exciting about the partnership with Intellect SEEC?
Intellect SEEC understands the opportunity proactive risk management brings to insurance. We're really excited about the integration of Safety Compass into Intellect Risk Analyst and the detail to which you can go into when it comes to worksites. Importantly, this partnership allows us to reach those people we wouldn't be able to, on our own.