Foreword
Accelerating the next wave of digital transformation
In today's competitive financial landscape, an organisation's competence to expand its agility has turned into a vital prerequisite in the industry. There is an increasing need now, more than ever, for global financial institutions to converge on new technology that will keep them ahead of the times.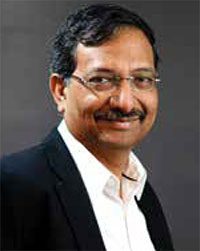 In this state of perpetual reinvention, we, at Intellect, ensure that our exponential technology founded on deep domain expertise, with its customer-centric approach, supports any financial institutions' desire to relook, reinvent and adapt to a constantly changing ecosystem.
Our technology is here to adapt to new age digital disruption and expedites development, eliminates repeatable processes and integrates different tools to ensure a seamless road to digitalisation.
Successful digital acceleration requires an agile implementation approach, which is where our expertise comes in. Our key differentiator, Design Thinking is pivotal to accelerating digital journeys for our customers.
Currently, we accelerate digital transformations for our customers 40 percent faster than the other players in the market. Our innovative tech based advanced solutions help organisations enjoy automated processes, simplified solutions, enhanced customer experience and thriving business results. We do this with our MACH compliant digital stack, 300+ fine grained PBCs, 900+ APIs and low code technology that helps exponential acceleration and predictable implementation.
Intellect has become the essential technology partner for this era of disruption. We give our customers the digital advantage to innovate and go to markets faster. We keep an eye out for the unstated needs of not only our customers, but their end customers as well with our focus on persona based customer engagement leveraging Artificial Intelligence and Machine Learning.
The modern customer expects financial services to be digitally convenient, contextualised and integrated seamlessly into their everyday lives. And that is what Intellect does; we enable financial institutions to curate superlative experiences to merchants, channel-partners and end customers across the entire spectrum of banking.
Warm Regards,
Arun Jain