Chairman & Managing Director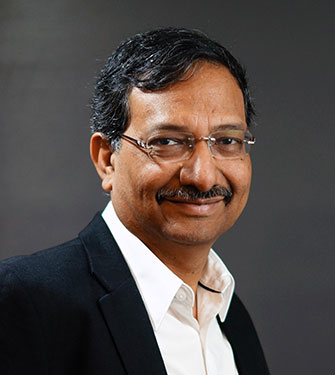 Arun Jain is the Founder of Polaris Group and Chairman and Managing Director of Intellect Design Arena Limited. Intellect is a specialist in applying true Digital Technologies, offering the world's first full spectrum of Banking and Insurance technology products, across Consumer Banking, Central Banking, Transaction Banking, Risk, Treasury and Markets and Insurance. Intellect powers over 240 leading Banks and Financial Institutions around the globe with its suite of Products. IBS Intelligence, a leading global research firm in its 2018 Sales League Table ranked Intellect #1 in Retail Banking Systems & Payment Systems and #2 in Lending Systems.
Arun commenced his entrepreneurial journey by setting up Nucleus Software Workshop in 1986. In 1993, he founded Polaris Software Lab, which recorded a CAGR of over 100% during the seven year period starting from 1993 to 2000. This path of deep domain expertise, vision and planning began in 1993, with just $250 and a dream. His journey was guided by two strong beliefs – (1) ordinary people coming together to achieve extraordinary results (2) the power of the organisational subconscious in realising the vision. Intellect Design Arena Limited is his third venture, in pursuit of his vision to make India the IP Capital towards the next growth wave for the IT Industry. Arun's passion to create a technology product powerhouse from India made Intellect a reality.
Arun is passionate about Design Thinking as a science to create the biggest impact on Individual and organisational performance. He visualises it as a platform for learning and applying, with a childlike curiosity to ask questions, forming the foundation of the practice of Design Thinking. An avid practitioner, Arun also evangelises Design Thinking through public workshops, branded as UnMukt. FinTech 8012, the world's first Design Center dedicated to Financial Technology is a testimony of his commitment to Design Thinking. He architected the creation of this Center from Concept to Execution.
Confederation of Indian Industry (CII) has conferred the Lifetime Achievement Award to Arun at India's premier ICT Event, Connect 2016. He was also conferred with the 'Lifetime Achievement Award' at the 4th edition of the Design Thinking Conclave & Awards 2018. Arun has received multiple awards including Lions Clubs International award for "Youth Empowerment", INDO ASEAN Business Initiative Award, ICICI Venture – CII Connect Entrepreneur Award, Visionary of India 2014-15, amongst others in recognition of his contribution to the Industry and the Society. His contribution was recognised by the Times Group, with an award and a feature in a book titled 'Pathfinders' that lauds the achievements of extraordinary personalities in the IT & ITES industry. He has held and continues to hold positions in industry bodies and trade organisations such as CII, MMA, STPI, National Institute of Electronics and Information Technology (NIELIT) and the Indo American Chamber of Commerce. He has been the Chairman of CII BANKing TECH Summit from 2014-2016. Arun has been entrusted with the responsibility as the Chief Mentor of the Centre of Excellence for FinTech set up by Ministry of Electronics & Information Technology (MeitY), Government of India in association with the ELCOT, Govt. of Tamil Nadu at STPI-Chennai.
A social engineer by nature, Arun has been working towards creating a better community. Ullas Trust, founded in 1997, with the purpose of igniting young minds and guiding them to realising their dreams, has since reached out to over 2,50,000 children from the economically-challenged sections of Government, Municipal and Aided Schools. This brainchild of Arun provides vital professional skills to adolescent children across the country nurturing the "Can do" spirit among the young minds.
Continuing his Social Connect initiatives, Arun has launched 'Mission Samriddhi'. This initiative is dedicated to holistic human development in India, through the design and development of projects that are sustainable and capable of scale to positively impact the larger population. Through Start-up Nukkad, another unique initiative for Start-up Entrepreneurs, Arun conducts special workshops for them to understand their purpose and nurture and mentor their innovative thinking using 10X model.