The bank to upgrade its Core banking, Lending, Trade Finance, and Treasury
Yangon, Myanmar, 25th July 2022: Intellect Global Consumer Banking (iGCB), the consumer banking arm of Intellect Design Arena Limited, announced that Mineral Development Bank has chosen iGCB's Intellect Digital Core to transform its banking solutions.
Intellect Digital Core has been recognized as number 1 in Retail banking as per IBS Intelligence in 2022. Mineral Development Bank, which is on a fast growth trajectory, will be able to:
Elevate customer experience through relationship-based pricing, better product cross-sell and upsell recommendations
Launch new products in days rather than months, by leveraging the product configurator
Power international trade for SMEs & Corporates through frictionless processing for International and domestic Trade instruments with Straight through processing and Real-time reporting
Real-time processing of International and domestic payments with high volume capability.
Track and manage bank's liquidity, forex, and investments, along with automatic reconciliation of NOSTRO.
Offer end-to-end loan management and comprehensive NPA management
Provide centralized limit for loans, trade finance, overdraft
Remove information silos, provide instant analytics and reports to bank employees
Improve operational efficiency across processes and empower the workforce
Be agile and always up-to-date with an API-driven and Microservices based composable architecture
A new entrant in Myanmar, the bank aims to open 15 branches this year. The digital transformation will provide the bank with a platform to innovate faster than its competitors.
iGCB has partnered with ACE, to implement the platform.
Mr.Htun Htun Oo, Dy CEO/BOD consultant, Mineral Development Bank, says "Our goal for this transformation was to empower our employees with the right tools which can help them deliver world-class banking to Myanmar citizens. We found Intellect Digital Core, most aligned to the needs of a growing bank with its robust technology stack and on-time deployment record. We are very excited to begin our journey."
Rajesh Saxena, CEO, Global Consumer Banking (iGCB), Intellect Design Arena, says "We are excited to be working with Mineral Development Bank. The upgrade will help the bank create exciting experiences for its customers, and launch new products faster, while at the same time improving productivity and reducing costs. Myanmar has been a country of strategic significance for us in APAC. We are excited to be able to provide its citizens with a banking experience that is real-time, seamless, hassle-free, and more connected than ever."
Zaw Moe Thant, CEO, ACE Data Systems Ltd., says "We are very pleased to be a catalyst in Mineral Development Bank's Digital Transformation Initiatives by involving in implementing Intellect Digital Core. Together with our partner Intellect, we hope we will be playing a vital role in shaping Mineral Development Bank to become a Digital Bank with innovative products and services for Myanmar Citizens."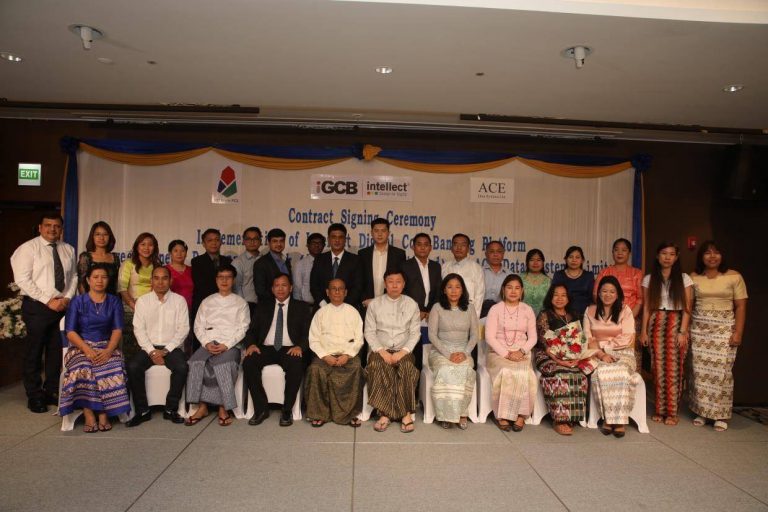 Leaders from Mineral Development Bank, Intellect Global Consumer Banking (iGCB) and ACE Data Systems Ltd., present during the contract signing ceremony
About Mineral Development Bank
Mineral Development Bank Limited was established as a public bank company limited on January 20, 2016 as certificate by DICA new registration No. 102383451 under Myanmar Companies Law (2017) in place of former Registration No.3246/2015-2016(Ygn). The Bank was permitted to carry out banking business under license No. MaBhaBa/Pa Ba – 26/07/2018 dated on 6th July, 2018 issued by the Central Bank of Myanmar (CBM) according to Section 57 of the Central Bank of Myanmar Law. The principal activities of the Bank are to provide banking and financial services as prescribed by Section 52 of Financial Institution of Myanmar Law. There have been no significant changes in the nature of these principal activities during the financial year. The registered office of the Bank is No.66, Kabaraye Road, Mayangone Township, Yangon Region, the Republic of the Union of Myanmar. Currently, the bank have four branches in two branches in Yangon, one in Naypyitaw and another one in Mandalay. Headquarter is in Kabaraye, Yangon. Yangon (Kabaraye Branch) started to operate on 15 November 2018, Naypyidaw branch is in 7 August 2019, and Mandalay branch is in 9 September 2019 respectively. The bank successfully opened its new Shwe Bon Thar branch in Yangon and started to operate on 24 January 2022.
About Intellect Global Consumer Banking (iGCB)
iGCB, the Retail and Central Banking Solutions arm of Intellect, offers an end-to-end Contextual Banking suite for retail and corporate banking across Core Banking, Lending, Cards, Digital Banking, and Central Banking. Its unique blend of integrated functionality and agility is made possible by its Microservices-based, API-first, cloud-native architecture with powerful integration capabilities.
iGCB brings to the table a deep knowledge of the developed and developing financial market space and seeks to be the Innovation Partner for those who are passionate about transforming the future of fintech! www.igcb.com
About Intellect Design Arena Limited
Intellect Design Arena Ltd. has the world's largest cloud-native, API led microservices-based multi-product FinTech platform for the Global leaders in Banking, Insurance and Capital Markets. It offers a full spectrum of banking and insurance technology products through its four lines of businesses – Global Consumer Banking, Global Transaction Banking (iGTB), Risk, Treasury and Markets, and Insurance. With over 25 years of deep domain expertise, Intellect is the brand that progressive financial institutions rely on for their digital transformation initiatives.
Intellect pioneered Design Thinking to create cutting-edge products and solutions for banking and insurance, with design being the company's key differentiator in enabling digital transformation. FinTech 8012, the world's first design center for financial technology, reflects Intellect's commitment to continuous and impactful innovation, addressing the growing need for digital transformation. Intellect serves over 260 customers through offices in 97 countries and with a diverse workforce of solution architects, domain and technology experts in major global financial hubs around the world. For further information on the organisation and its solutions, please visit www.intellectdesign.com.